On July 19th, the Signing & Acknowledgement Ceremony for RMB1.52-billion syndication of Juxin International Leasing Co., Ltd. ("Juxin Leasing") was held in Shanghai. This syndication consists of Shanghai Pudong Development Bank (SPDB), China Merchants Bank, Bank of Shanghai and Bank of Nanjing. Relevant leaders of the four banks were present.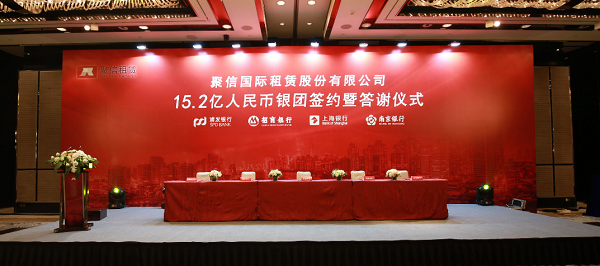 Signing Ceremony
The representative of Shanghai Pudong Development Bank, leading bank of this syndication, gave a speech on the ceremony, stating that SPDB looks to further increase of leasing industry and has maintained the cooperation with Juxin Leasing for 8 years. From its incorporation in 2009, Juxin Leasing has laid a solid foundation for being the industrial pioneer and made excellent achievements in many fields including domestic public healthcare and public education, for which SPDB extended its gracious congratulations. SPDB is honored to be the leading bank for this syndicated loan and the cooperation amount between the parties continues to increase. In the future, deepened cooperation may be carried out in issuance and custody of ABS and ABN as well as capital operation of future listed companies.
The President of Juxin Leasing, in his address, expressed his sincere gratitude for the bona fide support provided to Juxin Leasing by all financial institutions under the background of this year's featuring complex financial situation and tight market fund. A national conference on financial work was held recently, in which it was proposed that finance should serve the real economy. And financial lease, as the "blood capillary" of financial system, is the bridge between the substantial economy and virtual economy. This conference provides a good opportunity to financial lease industry. Juxin Leasing is committed to deepening and strengthening its efforts in its own segmentations and insists on the path of specialization. The steady, rapid and stable growth of business volume in the first half of this year is largely attributed to the support of all financial institutions. Juxin Leasing, as the first domestic financial leasing company applying for Mainboard listing IPO, will need the substantial support of financial institutions more than never after listing in the future. Therefore, it is wished that the cooperation will be further deepened in a comprehensive way, not only in syndicated loan, but also in ABS, ABN, CP and MTN.
The fund (RMB 1.52 billion) acquired by Juxin Leasing in this syndication will boost Juxin Leasing's business. The successful signing of this syndicated loan marks a new level of the cooperation between Juxin Leasing and related parties. Except for syndicated loan, an important fund source of Juxin Leasing, the company insists on diversifying the financial channels. For this purpose, so far from 2015, the accumulative amount of issued asset-backed securities has totaled about RMB 13 billion and the accumulative amount of issued corporate bonds totals about RMB 1 billion. Besides, the company proactively pushes forward issuance of CP and MTN, in order to exploit varied financial channels. With the fast developments of ABS, ABN and interbank bond market, Juxin Leasing hopes to deepen and extend cooperation with the banks by carrying out cooperation in more fields for the purposes of mutual benefit and win-win result as well as bearing fruits.