Recently, Shanghai Banking Association has convoked the third meeting of the 12th General Meeting, at which the "Shanghai Banking Association: Annual Awards" award ceremony was also held. The Juxin RMB1.52 Billion Syndication Project of Shanghai Pudong Development Bank Shanghai Branch won the award of "the best project of Shanghai banking syndicate loan and the best leading bank". It has further established the good international brand image of Shanghai Pudong Development Bank.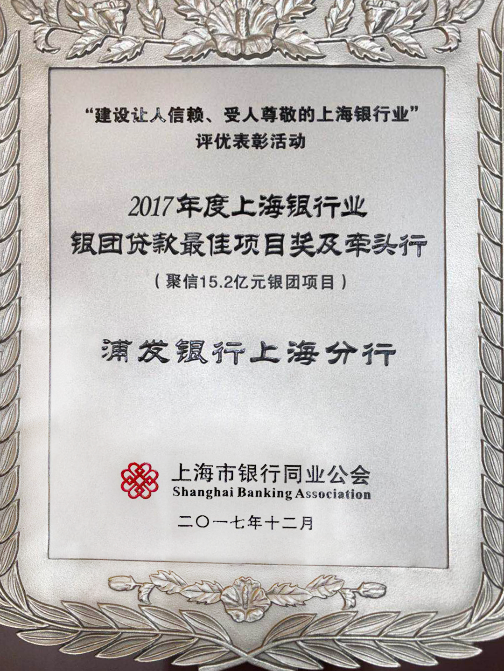 The Juxin RMB1.52 Billion Syndication Project is a syndication project jointly sponsored by Juxin Leasing, Shanghai Pudong Development Bank and other three banks in 2017. As the leading bank, Shanghai Pudong Development Bank, by giving full play to its own advantages and strength, joins hands with Bank of Shanghai, China Merchants Bank and Bank of Nanjing to provide high-efficient, high-level and all-round services, having effectively promoted the successful formation of the project and driven the cooperation and communication among all the parties up to a new level.
Juxin Leasing and Shanghai Pudong Development Bank have been cooperating with each other for eight years. With strength of both parties growing, their cooperation amount is increasing. In 2017, it, as the leading bank, cooperated with Juxin Leasing in two syndication projects, involving RMB2.52 billion. Syndicated funds have added a strong impetus to the business development of Juxin Leasing.
Juxin Leasing has extended its congratulation to Shanghai Pudong Development Bank for winning that award, and expressed the hope for continuous mutual-benefiting and win-win result, deeper and wider cooperation, and cooperation in ABS and ABN issuance and custody and other business fields, to make more achievements.