Recently, the 3rd General Meeting of the 4th Xuhui District Contract Credit Promotion Commission was successfully held, in which a proposal to augment council member was put forward. After the voting on site, it was agreed that Juxin International Leasing Co., Ltd. (hereinafter referred to as "Juxin Leasing") should be included as a council member.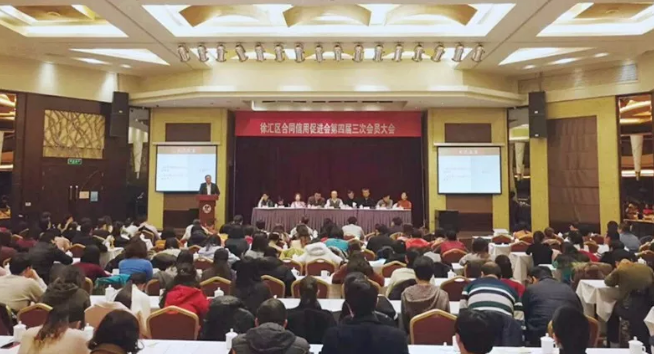 The General Meeting scene
Xuhui District Contract Credit Promotion Commission is a new-type social organization established voluntarily by enterprises for group-based social credit activities, and a new product of the construction of social credit system. With strong social credibility, it aims to boost enterprises' honesty and trustworthiness building and promote social integrity. Since 2011 when it became a member unit of Xuhui District Contract Credit Promotion Commission, Juxin Leasing has actively participated in the construction of the enterprise contract credit system in Shanghai. It has earnestly implemented the honesty and trustworthiness principle in terms of contract management level, contract management system, contract fulfillment and other work, and persisted in conducting corporate businesses with good faith and treating its counterparties sincerely. With "Ju" as enterprise spirit, therefore, Juxin Leasing has built a high-quality brand in good faith and set up a good corporate image in the industry.
The election as a council member is the recognition and encouragement for Juxin Leasing by the society. In the future, under the leadership of Xuhui District Party Committee and Xuhui District People's Government, Juxin Leasing will continuously and deeply implement the spirit of the 19th CPC National Congress and conduct the honesty and trustworthiness building activities and strive to promote the construction of social credit system.
Furthermore, at the recent "Striving to Be Advanced and Create Excellence" Work Summary and Commendation Conference of Shanghai Contract Credit Promotion Commission, Ms. Geng Liansong, General Manager of the Marketing Department of Juxin Leasing, was awarded with the honorary title of "Advanced Individual". As the contact person of a member unit, Geng Liansong has actively participated in activities of the Commission and contributed to improving the contract management level of Juxin Leasing, with a serious and pragmatic working style and a solid and excellent professional quality. She has also conducted careful check and strict control for her responsible contract credit rating work, so that Juxin Leasing has been awarded with contract credit AAA rating and the "Contract Abiding and Trustworthy Enterprise" in Shanghai for years. For the selection as "Advanced Individual", Ms. Geng said that she would continue promoting the spirit of "daring to contend for the first place", maintain the passion of "doing well in excellent creation", create a new work prospect, and make new contributions with great efforts.