On January 15, the 2nd General Meeting and the 4th Meeting of the 5th Council of the 5thShanghai Leasing Trade Association was grandly held, with the participation of over 200 member units. At the meeting, advanced member units were commended. Juxin Leasing was awarded with the title of "Excellent Enterprise in 2017" by virtue of its outstanding performance in the industry.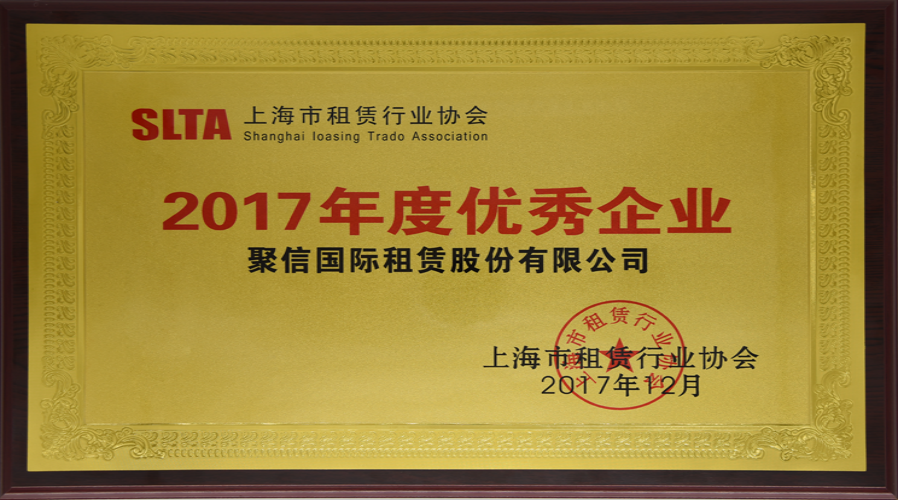 Juxin Leasing awarded with the title of "Excellent Enterprise in 2017"
According to the principle of "fairness, justice and openness", the title of "Excellent Enterprise in 2017" should be granted to an enterprise with high reputation, good performance and outstanding social contribution made. In 2017, Juxin Leasing, as Vice Chairman unit of Shanghai Leasing Trade Association, has firmly taken the lead to make considerable progresses in several fields and played a strong demonstration role in the industry, making contributions to promoting healthy development of the industry.
In 2017, Juxin Leasing has made various achievements: (1) It has continued expanding its ABS business, stood in the top five of product release scale ranking in the industry, and made breakthroughs in ABN, Pre-ABS and other new trading forms. (2) It has developed several business systems and put them on line, achieving efficient and intelligent office and significantly improving its operating efficiency. (3) It has upgraded its risk control system again and successfully accessed the Credit Reference System of the People's Bank of China, further improving its credit risk prevention ability and effectively reducing business risks. (4) It has maintained rapid growth in the number of customers and the asset size; and has actively explored and expanded new business areas and practically promoted the progress of market diversification, while continuing developing traditional businesses. (5) With quality customer resources and good risk control ability, it has successfully obtained several banking facilities and rigorously promoted rapid development of business. (6) It has focused on helping and supporting the education, medical and public utilities in nationally designated poor counties by means of its main operations, and fully supported and promoted the development and construction of the above industries in those poor counties, actively responding to the national call and ensuring that the defined national poverty alleviation goals could be achieved as soon as possible.
Therefore, with its conspicuous development achievements in 2017 as mentioned in above, Juxin Leasing deserves this honor of "Excellent Enterprise in 2017". At the meeting, Wang Xingli, Deputy Chairman of Juxin Leasing, introduced Juxin Leasing in detail and shared relevant risk control and management experience with all guests, through delivering a great speech themed with "Rely on a Powerful Information System to Develop an Excellent Risk Control Ability". Juxin Leasing hopes to conduct mutual communication, learning and promotion with the peer, to fully support the work of Shanghai Leasing Trade Association and jointly boost the development ofChina's financial leasing industry.