Recently, the 8th Meeting of the 3rd Council & the 5th Meeting of the 3rd Member Meeting of Shanghai Services Federation was held in Shanghai International Convention Center. During the Meeting chaired by President Zhou Yupeng, Li Guande, Vice President and Secretary General, made the 2017 Report on the Work of Shanghai Services Federation, and the resolutions of the 8th Meeting of the 3rd Council of Shanghai Services Federation were approved by voting. The Member Meeting gave commendation to the member units who made contributions and obtained sound achievements in boosting the development of Shanghai Services Federation in 2017, including Juxin Leasing winning the "Award of Excellent Activity for Year 2017".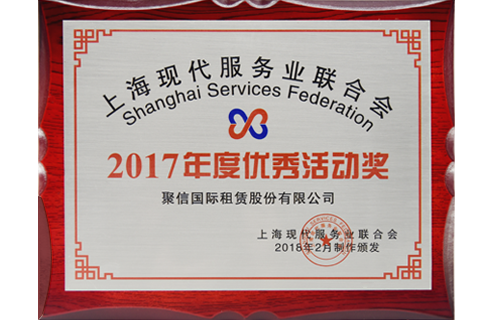 Juxin Leasing wins the "Award of Excellent Activity for Year 2017"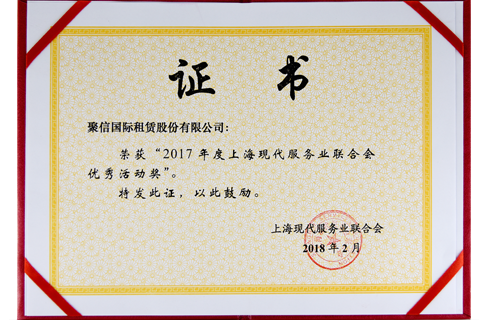 Certificate of award for Juxin Leasing
As a council member of Shanghai Services Federation, Juxin Leasing rooted for and actively cooperated with the work of the Federation, actively carried out several excellent activities for promoting the establishment of social credit system, and made contributions to the creation of sound social credit environment. Focusing on the construction of credit system since establishment, Juxin Leasing adhered to the integrity-based principle in operation and the wholehearted principle in the implementation of businesses, thus was highly recognized by the society and clients, and also built a sound faithful image in the industry. The Company wined the title of "Business Enterprise of Observing Contract and Valuing Credit in Shanghai" rewarded by Xuhui District Contract Credit Promotion Commission.
The excellent achievements gained through the relevant activities conducted by Juxin Leasing in 2017 were supported and recognized by the relevant departments of Shanghai Municipality and wined municipal-level honors and recommendations. The honor "Award of Excellent Activity for Year 2017" granted by Shanghai Services Federation this time is another affirmation to the achievements gained by the Company. In 2018, Juxin Leasing will continue to advance the construction of enterprise contract credit system in Shanghai, root for the work of Shanghai Services Federation and further promote the development of modern service industry in Shanghai.