In the afternoon March 9, the Party Branch of Juxin Leasing held the Meeting of Domestic Life 2017 to strengthen implementation of the guiding principles from the Party's 19th National Congress, earnestly carry out General Secretary Xi Jinping's important instructions on endless effort to address the four problems, i.e. practice of formalities for formalities' sake, bureaucratism, hedonism, and extravagance, and on improving conducts constantly, and to facilitate the practice of "Two Studies, One Action" to make it regular and institutionalized practice. Before the meeting, the Party Branch organized the party members to study relevant contents extracted from the General Secretary Xi Jinping's Report to 19th CPC National Congress and the Constitution of the Communist Party of China.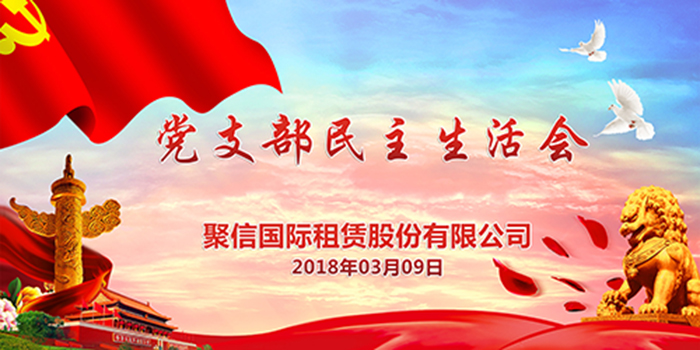 The Party Branch of Juxin Leasing Held the Meeting of Domestic Life
At the meeting, the Party Branch Secretary of Juxin Leasing briefed on the work in the past year, pointed out the detected problems in the operation of Party Branch and specified the rectification measures and direction of the work of the Party Branch in future. The Secretary also communicated with the participants at the meeting to hear their opinions. A democratic appraisal on the party members was also carried out later at the meeting through anonymous voting by all party members based on their actual performances, such as duty fulfillment and abidance by the Party's disciplines.
The meeting has enhanced the communication and mutual learning between the party members, their practice of adhering to the truth and correcting errors, giving them an opportunity to learn from each other and help each others. After the meeting, the party members were gathered together by the Party Branch of Juxing Leasing to watch the patriotic military film Operation Red Sea, to understand the soul of army, pay their respect to the People's Liberation Army, inspire their patriotism and fully implement the idea of developing socialism with Chinese characteristics proposed by General Secretary Xi Jinping.