On May 7, 2018, the 2018 Annual Conference of China Securities & Structured Finance and 2018 Annual Conference of China Securitization Forum were officially kicked off in China National Convention Center, Beijing, with thousands of elite participants from financial industry to share opinions, exchange experience and discuss the development and progress of the industry in 2018 together. On the evening of May 8, a grand award ceremony was held to commend organizations that made outstanding contributions to the development of the industry in the previous year. Juxin Leasing was granted with the "Outstanding Organization Award in 2017".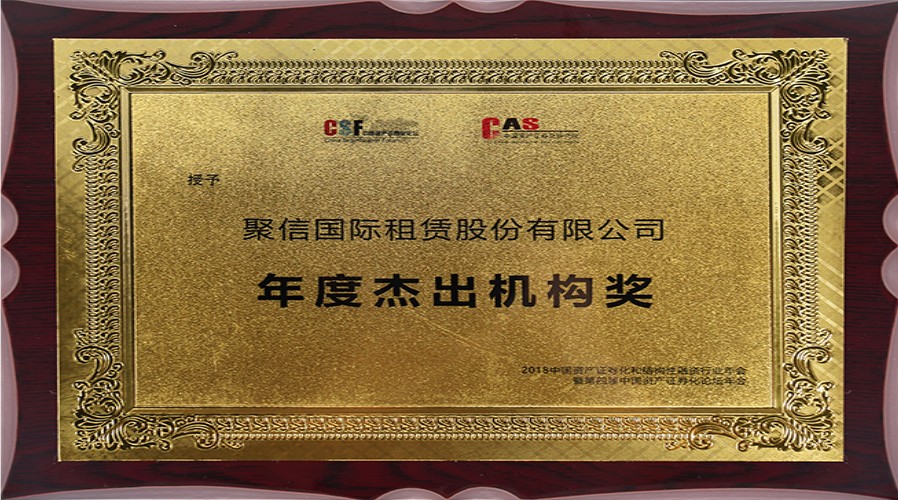 Juxin Leasing won "Outstanding Organization Award in 2017"
In 2017, China's securitization and structured finance industries kept growing rapidly and developing steadily. According to the data disclosed in the Blue Paper for Securitization: Progress Report on Chinese Asset-Backed Securitization (2018), the issuance scale of China's asset securitization products in 2017 reached RMB1.4 trillion, and such products play an increasingly important role in optimizing the allocation of social capital and serving the real economy. In 2017, Juxin Leasing has successfully issued multiple stages of ABS and ABN products, quickly revitalized inventory assets, improved the turnover rate of assets, and put its product issuance scale in the forefront of the industry, through seizing development opportunities, strictly preventing and controlling risks, and persisting in product optimization and innovation.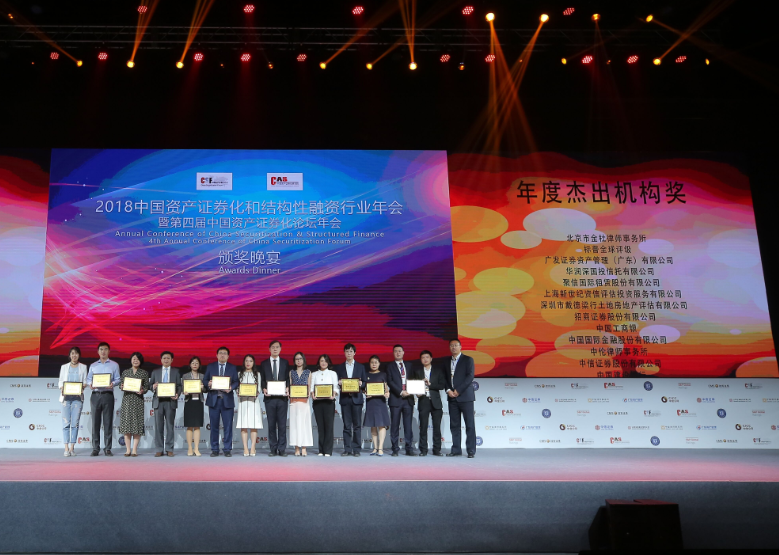 The representative of Juxin Leasing was receiving the "Outstanding Organization Award in 2017"
Juxin Leasing has been regarding "professional, concentrated and dedicated" as its corporate purpose and actively exerting its professional expertise. With its professional structured finance team and a standardized management system, it has been digging up the development potential of the asset-backed securitization market continuously. This time, Juxin Leasing won the "Annual Outstanding Organization Award" jointly with Industrial and Commercial Bank of China, China Construction Bank, China Merchants Securities Co., Ltd., GF Securities Asset Management (Guangdong) Co., Ltd. etc. It is a glory and an incentive for us. Juxin Leasing will continue working together with its peers to achieve better results and undertake a stronger sense of mission, to promote the standard, healthy and sustainable development of the industry and make contributions to the development of China's real economy.