On May 29, under the support and instruction of Xuhui District Women's Federation, the group led by the General Manager of the Market Department of Juxin Leasing went to Honghe Prefecture of Yunnan for targeted poverty alleviation, signing the agreement on donation of love libraries with four impoverished counties including Luxi, Shiping, Pingbian and Yuanyang.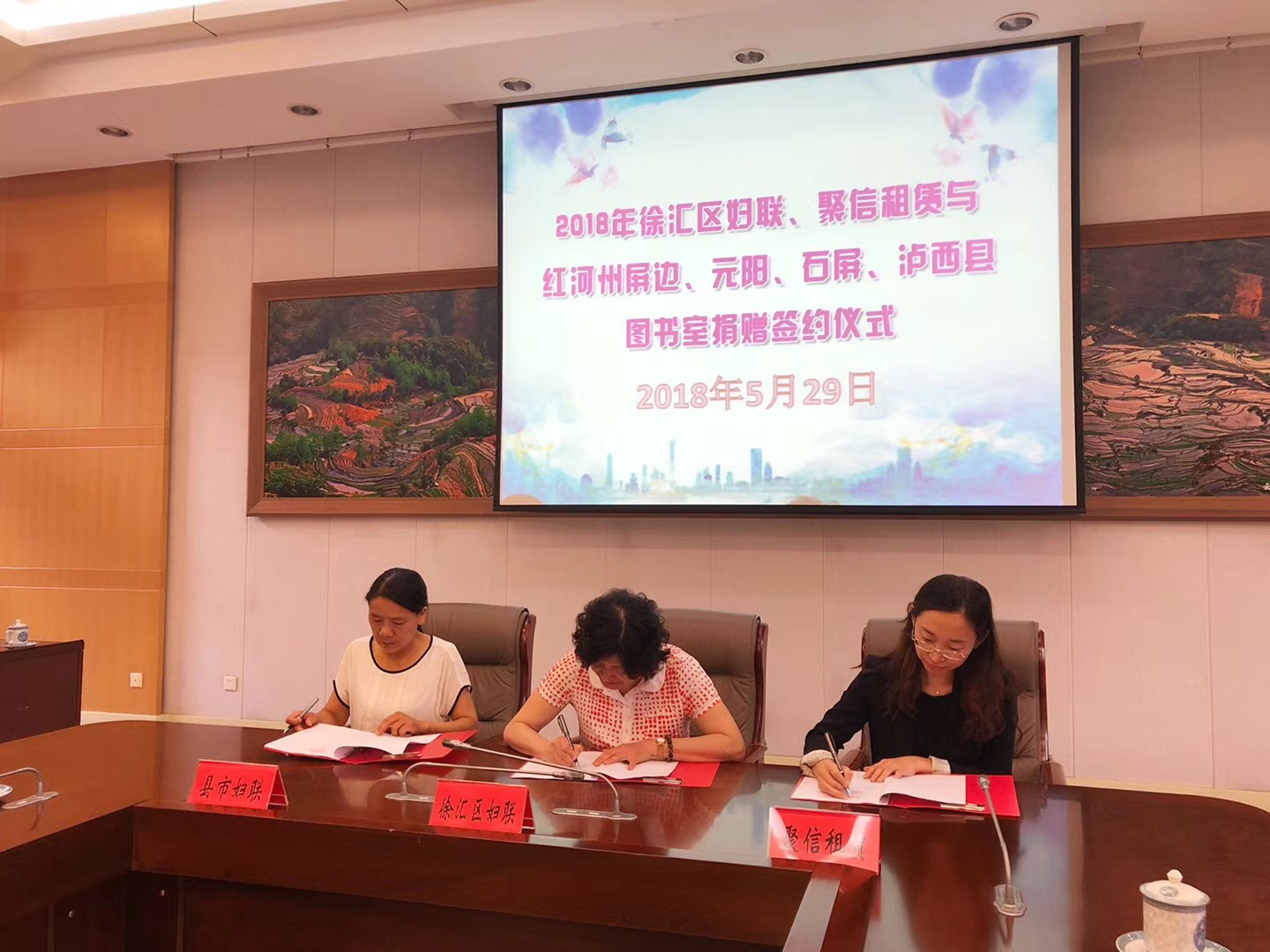 Signing Ceremony for Public Welfare Donation by Juxin Leasing
In the first half of this year, in order to support the poverty alleviation in Honghe Prefecture of Yunnan and further push forward targeted poverty alleviation, Juxin Leasing communicated with the Women's Federation of Xuhui District, Shanghai and visited the impoverished counties in Honghe Prefecture in April for public welfare inspection and the actual conditions and living requirements of the primary schools in need. The agreement on donation of the love libraries signed with the four impoverished counties is aimed at supporting the healthy growth of local students and the development of local education. In the coming three years, Juxin Leasing will donate books and provide support to build school libraries for the poor primary schools at mountain regions of the four impoverished counties, in an endeavor to enrich after-school life and cultivate good reading habits of the children, and will also donate multiple supplies including life support equipment, teaching equipment and sports equipment, to improve the children's learning conditions and living standard.
The signing ceremony was held in the meeting hall of the government of Mengzi City, Honghe Prefecture, in which representatives of each Party had an in-depth communication. The Chairwoman of Honghe Women's Federation extended her particular gratitude for the support and care of Xuhui District in all aspects and the help of local caring enterprises. She said, in the future, Honghe Women's Federation would attempt to conduct cooperation with the Women's Federation of Xuhui District in more fields, and strive to overcome poverty through the poverty-alleviation model of going out and bringing in.
Juxin Leasing positively answers to the national call of "Targeted Poverty Alleviation and Elimination", and always integrates the development strategy with corporate responsibility. In the meeting, the General Manager of the Market Department of Juxin Leasing said that, Juxin Leasing was deeply concerned about public welfare, attached importance to the growth & health of both women and children in impoverished regions and organized the public welfare project of "Work Together for a Shared Dream". Juxin Leasing would walk into impoverished regions in more diversified forms, and carry out targeted poverty alleviation based on actual requirements of the impoverished counties, helping more groups living in difficulties and giving warm and love to them.