The 2018 China Asset Securitization Compliance, Innovation and Investment Annual Meeting was held in Shanghai on January 16, during which it provided a summary of achievements and experience obtained in China's asset securitization industry in 2018 and a large number of industrial experts and practitioners discussed industrial development directions in 2019. In addition, winner list of the third China Asset Securitization Industry "Elite Award" was unveiled in the award ceremony. With excellent performance in asset securitization business, Juxin Leasing together with other well-known financial institutions such as Industrial Bank, Huajin Securities and Zhongshan Securities was awarded the "Innovative Institution Award".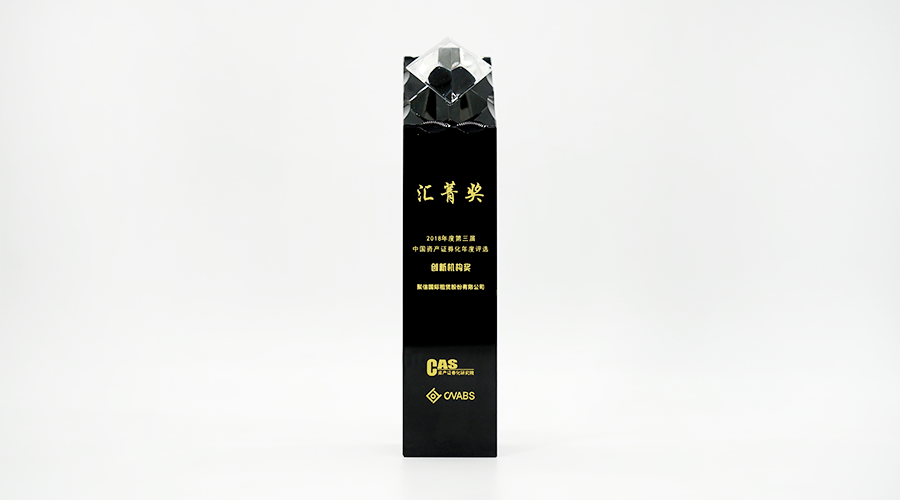 Juxin Leasing received the "Innovative Institution Award"
In 2018, China's asset securitization market continued along the path of rapid expansion and steady operation over the previous four years. According to CNABS statistics, as of December 31, 2018, China's asset securitization market accumulatively issued 2,543 asset securitization products with an accumulative issuance amount of RMB5,387.211 billion. Organized by China Asset Securitization Info, China Lianhe Credit Rating Co., Ltd. and United Ratings, the "Elite Award" activity aims to award and encourage companies, institutions and individuals with outstanding contribution to the development in asset securitization field and to facilitate industrial innovation and information exchange and sharing.
With a focus on innovative development, Juxin Leasing has established a sound and effective risk management system on the basis of science and technology, with an aim to ensure the quality of leasing assets and the security of corporate funds by evaluating client data via strong risk control models and making effective control of project risks via precise estimation. Specifically, by virtue of detailed management and systematic asset analysis on the basis of big data application, it monitors and shares information on capital recovery with asset management institutions on a real-time basis and enables exchange of real-time information on rent collection, thus significantly improving the transparency of asset management. In addition, by virtue of the WeChat official account, it enables real-time inquiry of product delivery and product information, allowing clients to obtain more precise information on assets purchased. In view of Juxin Leasing's excellent performance in risk control management and asset management, regulators and investors show enhanced confidence and recognition in the assets of Juxin Leasing. As evidenced by the "Innovative Institution Award", the market and industry fully recognize the performance of Juxin Leasing. In the future, with previous achievements as a new start and recognition as new driver, Juxin Leasing will maintain its professional and pursuit in the asset securitization field, to provide clients with more high-quality products and to facilitate the positive development of asset securitization industry.